Invergordon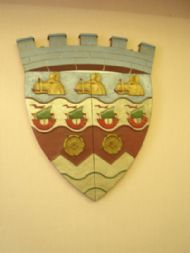 Invergordon's Crest
News From the Community Groups
INVERGORDON & DISTRICT ENVIRONMENT GROUP
Members: Ann Crawford, George McIntosh, Val MacKay, Malcolm McKean, Isa Rees, Sharon Scott, Maxine Smith (Chair), Kathleen Smith, Lindsay Tennent.
Funding: Please note that any funding raised or utilised by this Environment Group could not have been used elsewhere for other types of projects or works. Environmental funding carries specific criteria which means there are only so many things it can be used for, so please do not assume you could have found a better use for any funding accrued for environment projects, as the funders would not have allowed it.
Projects ongoing since 2005:
Gateway Feature – Academy Road Corner
The Invergordon Distilleryis kindly donating butts to form a pyramid shape feature in front of which will be signage saying "Welcome to Invergordon" with the town's crest in colour. The job will be carried out by LandPower Services and Danny Coutts Joinery Services, as well as volunteers. Money has been raised by the Environment Group to pay for this project.
Expected completion: June 2006
Aim: To provide a welcome to visitors and exhibit a sense of pride in the town and what it can be in time.
Core Footpaths
The Highland Council are looking at core footpaths in all highland areas. The Environment Group will be working with other groups and HC in the development of footpaths throughout Invergordon.
Expected completion: Not known, possibly late 2007
Aim: To provide properly maintained walks and cycle paths for locals and possible heritage trails for all.
Station Embankment
Funding is being sought to tidy up the embankment area at Invergordon Station on the Cromlet Drive side. There used to be sections planted up with flowers and shrubs. It is hoped to use the designated flowerbeds to do this again. Groups involved will be the Brownies, Isobel Rhind Centre, Museum, Off the Wall, Business Association, Environment Group, Old Invergordon Residents Group and Invergordon West Residents Group and any other group wanting to take responsibility for a flowerbed.
Expected completion: Summer 2006 or Summer 2007, dependent on funding
Aim: To provide a sense of ownership and pride in Invergordon's station and to engage a community spirit in developing a sustainable environmental project especially for the Brownies and the Isobel Rhind Centre members, who will get a great sense of achievement from the resulting displays. Competitions between the different flowerbeds and other stations on the Far North Line may result. Also looks more inviting for rail passengers to embark at Invergordon in the future.
Planters, Hanging Baskets and Flowers High Street
This project is in conjunction with the Invergordon Business Association. Funding has been found for the Isobel Rhind Centre to grow and cultivate flowers for display on the High Street this summer. The contributors to this are the Invergordon Business Association, Cllr. John Connell's Discretionary Council Budget, Invergordon Community Council, Albyn Housing and Inverness & East Highland Enterprise Company. There will be 82 planters on buildings, 18 hanging baskets in the centre from second week June through to early October. This project can only be carried out with the voluntary assistance of Invergordon Fire Brigade, Invergordon Pallet Company and other helpers from the groups on the day who provide food and nourishment to the volunteers, such as the Crazy Horse café. The firemen work for many hours on a Sunday putting up the planters in June and taking them down again in October and have done this for many years.
Expected completion: Sunday, 11th June, 2006
Aim: To brighten up the dull High Street and provide a sense of pride for locals and to show off the talents of the Isobel Rhind Centre to visitors. Provides a huge sense of achievement to the members of the Rhind Centre and if the displays are well maintained and suitable to enter into competitions this may be considered.
Water Bowser on Trailer
Funding has been sought and achieved to purchase a water bowser for the town. Whilst under the auspices of the Environment Group this is a community asset and can be borrowed by other community groups if required. It is a high pressure unit driven by a diesel engine so the water can be delivered at a faster pace. In previous years a lorry has been used to transport a 500 gallon bowser but the lorry became costly to maintain and MOT, as well as tax and insure and it proved difficult to constantly raise money to pay for this so it was sold for a small amount. The funding for the bowser has been raised by Community Economic Development Fund via Inverness & East Highland Enterprise Company and also by funds from the Environment Group. The lance part of the hose system for reaching up to the planters on the High Street buildings was provided free of charge by MacGregors' Supplies, Invergordon. Costs for the insurance of the bowser will raised through the Environment Group and will be ongoing.
Expected completion: Bowser was taken delivery of on May 23, 2006.
Aim: To use to water all town planters and flowerbeds where necessary. Bowser should last for some considerable years and be available to use by the community for various projects in the future.
Rosa Rugosa Hedging Isobel Rhind Centre
Funding was provided to the Isobel Rhind Centre to assist towards a fence around the garden area of the building, in order to provide privacy and make the area more secure and safe for the members who use the Centre.
Expected completion: Funding handed over in May 2005, contractors almost finished hedging.
Aim: To assist a worthy cause and help to integrate the Isobel Rhind Centre users more into the community and volunteer organisations.
Volunteers
Please note each year volunteers are needed to water the flowers. There will be 2-3 evenings this year and around 24 people taking part from the various groups…this shows unity and a sense of togetherness. In previous years the Invergordon Business Association and Invergordon Off the Wall have taken turns in watering the flowers for 3 months of the year every single week, as volunteers.
If you, as a member of the public, wish to help with any of the above projects or join the Environment Group or help with watering please contact the Chairman, Maxine on 01349 852852 or email maxinesmith@hotmail.co.uk. All help would be appreciated however little you think you can contribute, even 2 hours of your time per month is all we would ask.
INVERGORDON BUSINESS ASSOCIATION
Members: 24 businesses, 4 honorary members Chairman: Maxine Smith Vice Chairman: Martin Rattray Treasurer: Robin Nairn
High Street
Much of the Association's work has been taken up in trying to rectify the mess the Highland Council have made of the retail section of the High Street. The chairman researched under Freedom of Information and compiled a 37 page report which took months and presented it to the Area Convenor to ask for assistance in sorting out the situation of parking, disabled bays and taxi drop offs. At this moment in time no help is forthcoming. This situation has put the Association at odds with the Council and local Councillor. The lack of parking in the area is causing motorists to shop elsewhere and not bother with Invergordon for anything that they can get in Alness. This is not fitting with the issues of the town which is struggling to hold onto the few shops it has. The report on the High Street puts forward suggestions for interim rectifying of the situation, suggesting that the chevron parking situation with a Road Traffic Order would be more favourable to what is there now. Many people would prefer the traditional wide High Street but as the Council has no funds for this, the only option that would cost very little is to revert back to chevron with safety features put in place. As yet the Council are refusing to do this. There are the issues of rental prices on the High Street premises but some of the property owners are addressing this and if the parking situation could be improved in order to improve footfall to the town, it may encourage new shops to open up. There will soon be an Indian Takeaway, Balti Cottage where Victoriana used to be, due to open summer 2006.
Membership of Corporate Organisations
The chairman of the Association has been invited to join two other organisations which deal with economic development and business, which she has accepted on behalf of the IBA. The point of this will be to bring to Invergordon knowledge and networking from other areas such as Inverness and try and claw back some of the trade that goes elsewhere, as well as put Invergordon more firmly on the Highland map. It is hoped that now there are so many other community groups working in the town the IBA can concentrate on business and expansion of industry in Invergordon, rather than on its community remit, which it saw as going hand in hand with business. In previous years it has been unable to do thing about business alone as it was the main group alongwith the Invergordon Community Council to take forward community projects. Other community groups have often been offshoots of the IBA and are now groups in their own right, such as the Invergordon & District Initiative, Tourism sub groups, the Environment Group and Off the Wall Group. All of these groups are now operating under their own constitutions and with their own members, although some members also retain membership of the IBA.
The IBA wishes to recreate its core aims and focus mainly on enlarging Invergordon's economic heart and attracting new companies, more work and planning for the future. The basis for this is now being put in place, but the issues with the High Street take up a great deal of the chairman's time so it is hoped this issue will be resolved as soon as earthly possible in order for the Association to move on and deal with the growth potential it sees for Invergordon.
The IBA is also about to expand its boundaries to include neighbouring areas to take into account the changes in local government planned for next year. This will also increase the Association's potential and improve the likelihood of attracting further business to the area.
Any business owner wishing to join should contact Maxine, the chairman on 01349 852852 or email maxinesmith@hotmail.co.uk. The fee for joining is £35 and this is required only to cover administration costs of running the Association. The members are all volunteers and receive no remuneration, even though their roles can be very time consuming.
INVERGORDON TOURISM ALLIANCE
Members: 20 members of the public, 3 consultant ex officio members Chairman: Malcolm Harrison
This is a newly set up community group of volunteers looking at ways to attract visitors from Scotland and further afield to Invergordon to contribute to the economic growth of the area and make things better for the locals in terms of improved facilities and a sense of pride and cultural heritage. It is looking at possible heritage trails along with the Museum and Off the Wall, welcoming teams down at the pier, events for the summer, such as gala days and entertainment, tourist information and generally making the town more accessible and welcoming for everyone including the locals.
To assist with this group, even if it's a few hours a month please contact Malcolm at the Crazy Horse Café, High Street, or email Malcolm on boodlesbiz@hotmail.com
SAIL SIGN/BANNERS
Members: Invergordon Off the Wall, Invergordon Initiative, Invergordon Business Association, Invergordon & District Environment Group, Members of the public
The Off the Wall Murals Group were approached 2 years ago by an Invergordon man who had moved to the continent who wished to donate free gratis material to provide signage for the town. A sub group of the IOTW group was set up to discuss this. Due to time delays and the need for expert advice progress has been slow. Designs are now prepared of aerial shots of Invergordon displayed on giant sail shape signs, around 20ft tall and 15 feet wide which will be mounted on a mast and placed in two strategic positions off the A9. There may possibly be a third mounted either at Saltburn or the Shore Road – this has yet to be agreed.
Expected completion: It is hoped to complete this project in 2006, but this is dependent upon completing the funding applications and landowners giving permission for the locations. If further delays occur this project will carry through into 2007.
Aim: To remind people what Invergordon looks like and how good it is and to attract visitors to view the natural history of the Firth, the museum, the shops, the heritage trails to re-create a sense of pride in what Invergordon is all about.
INVERGORDON GAZETTE
Members: Invergordon Initiative, Invergordon Players, Invergordon West Residents Group, Invergordon Community Council, Invergordon Albyn Residents Group, Invergordon Business Association, Invergordon Museum
A sub group of the Invergordon & District Initiative was set up recently to look at re-creating the old Invergordon Community News in a new format, similar to the Alness & District Times, that can be self-sustaining and very affordable. The previous Community News was put together for many years by Malcolm McKean and Donald Grant, working with Joss Street Hall. The paper was funded solely by the advertisements but only covered the printing costs, not the supply, as they were circulated by volunteers, such as Ann Crawford and other Community Councillors, who gave up their time quarterly for this task. The Editors, Malcolm and Donald received no remuneration for their years of hard work on the editions. Eventually due to pressures of work they had to stop doing it, at which time it folded completely.
Even now pressures of work prove difficult for volunteers as everyone is also doing a full-time or part-time job elsewhere, so it was decided to apply for funding to engage a Community Resource Worker to set up the first edition of the Invergordon Gazette. This is a very temporary position, which will last only a number of weeks, after which the volunteers will hopefully have in place a system in which to carry forward the Gazette on a regular basis.
Volunteers are still sought for this project and can be any age or ability and activities can range from preparing adverts, writing short stories or articles, interviewing people, drawing cartoons, or anything that you feel would benefit the local community paper. Please contact us on maxinesmithuk1@aol.com if you wish to add anything to the newsletter or help out.
INVERGORDON OFF THE WALL
Please see website for this group on www.invergordonoffthewall.co.ukor contact helen.kermode@hotmail.com.
INVERGORDON & DISTRICT INITIATIVE
Members: Invergordon Museum & Heritage Centre, Old Invergordon Residents Group, Invergordon Albyn Residents Group, Invergordon West Residents Group, Invergordon Community Council, Invergordon Business Association, Invergordon Environment Group, Saltburn Community Association, Saltburn Community Council, Invergordon Off the Wall, Invergordon First Brownies, Invergordon Players.
Chairman: Martin Rattray
Vice Chairman: Maxine Smith
Secretary: Una McIntosh
Treasurer: Jaki Gardner
The above group was recently constituted and provides a facility for agreeing funding available from CED (Community Economic Development) and STN (Small Town Network), both European sources of funding, which have to be agreed within certain community criteria. It is a requirement that the agreement is channelled through volunteer community organisations. This Initiative Group also provides a forum for communication throughout all the groups involved, giving each member the opportunity to feedback to its own group what the other groups are doing in the town, so that there is not too much overlap, there is an agreed strategy, cohesion and most of all togetherness and a sense of common aims. Any community group which is constituted can apply for membership which is free. All groups in the area are encouraged to do so in order to know what everyone else is up to and to join a pleasant and agreeable forum for free discussion and planning. Although this group is very new in its new format it is already striding ahead with ideas and has engaged consultants to carry out various surveys in the town to get complete feedback from the townspeople to see what other people's priorities are for the town and has plans to engage with the public every step of the way.
This website was set up several years ago and funded by the Invergordon Business Association. It is run by volunteers, in fact one volunteer, Malcolm McKean, a member of the IBA and former Community Council Chairman, who updates the site on a regular basis and has put in many hours of work updating and creating the Image Library which is used by thousands of people all over Scotland, the UK and the world, as well as locals who look back on the old days in Invergordon. There is a well used Guest Book as well as information on many aspects of Invergordon. If you are reading this, you have obviously accessed the site, but if you wish to copy it to others the URL is www.invergordon.info.
(All pages of this website Printed, Published and Promoted by Maxine Smith, Heathfield, Invergordon IV18 0LN)